What is the secondary market exactly?
The secondary market is the place where investors can buy or sell parts of loans from and to other investors on the platform. The main advantage of this kind of trade is that it gives investors the opportunity to liquidate their investments. Other benefits from trading on the secondary market are:
– Opportunity to obtain return faster than the corresponding repayment schedule.
–  Opportunity to generate even higher return if they manage to sell their investments for a higher price than the nominal one (premium price) or to buy at a cost lower than the nominal (discount price)
– Opportunity to invest in loans that are not available on the primary market
Buying loans at iuvo's secondary market
Iuvo offers a secondary market to all its investors. Once you log into your profile, you can access the secondary market via the 'Invest' menu and by selecting the 'Secondary market' tab.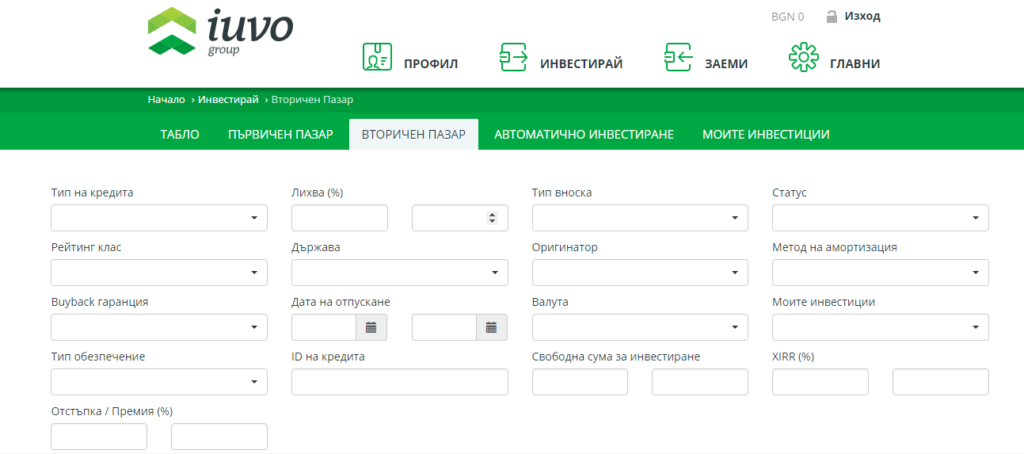 Use filters to view only loans that respond to your specific requirements or check out every credit listed on the secondary market and its features from the list under the filters.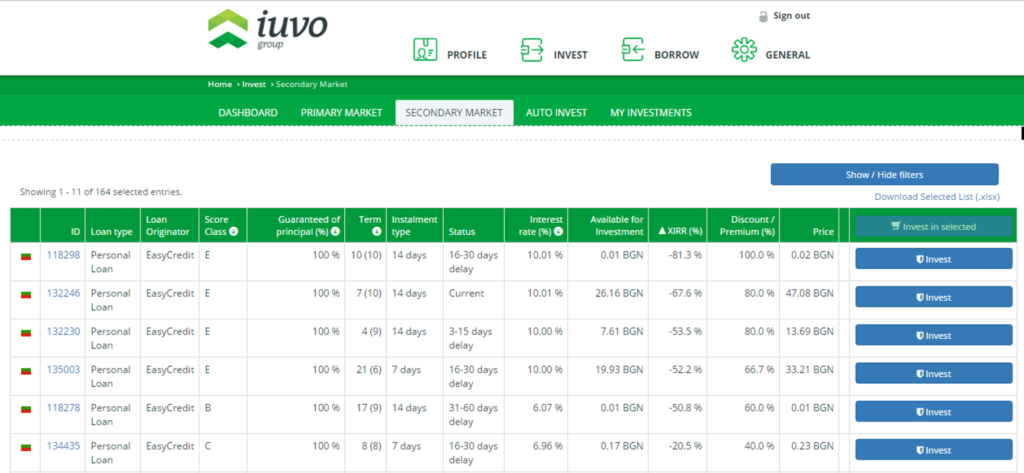 Every loan has an 'Invest' button, and after clicking for one or more loans, you can pick the sum you want to invest, and you can confirm with the 'Invest in selected' button. That's how the loans become a part of your portfolio, and they start generating a return for you.
Selling loans on iuvo's secondary market
Every investor can list for sale loans or parts of loans from their portfolio on the secondary market.
In the 'Invest' menu, the 'My investments' tab shows all the loans you have invested in.
With the button 'Sell' and confirmation you can offer each of your loans for sale on the secondary market, whereas you fix the price you'd like to sell it for. It can be higher (premium price) or lower (discount rate) than the nominal.
Trading on the secondary market is a method that can seriously increase the return on your investments. The opportunity for quick liquidity is significant for investors, especially when it comes to investments in long-term loans. It turns the secondary market into an important tool, which can increase the maximum return on your investments.