The combination between innovations, brave and precise decisions, entrepreneurial spirit, and motivation – this unites iuvo and NordCard. The originator is our partner since February 2020, and it successfully provides the platform's investors with attractive conditions and campaigns from the start. NordCard is the first company on iuvo that offers buyback guarantee not only on the principle, but on the interest, according to the payment schedule, as well.
We asked Daniels Jukna – CEO of NordCard, how does he see the development of the market, what stays behind their good results and successful partnership with us.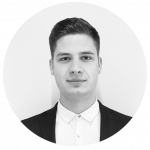 Tell us about the business model for your company?
NordCard is a Latvian FinTech company that offers Credit limit on a bank account, and on a debit card, in the non-bank segment. The products of the company have been through 4 cycles of development to ensure a stable, modern, flexible, and trustworthy service package, which can offer solutions to the specific needs of our clients. The main principles, responsible for the success of the company, are – transparency, perfectionism, safety, development, teamwork, and of course, customer care.
How and why did you decide to join iuvo as an originator?
One of NordCard's main goals is to diversify its portfolio and increase volumes, and iuvo was just what was needed. Iuvo is a fast-growing company that offers flexible conditions and sustainable cooperation.
Iuvo's flexibility and professionality are proven by the implementation of a payment guarantee, which has not been on the iuvo platform so far, and only by working together the best solutions are offered to both the investor and us. Iuvo and NordCard have successfully coped with this task and our cooperation has a secure future.
What do you think distinguishes iuvo from other players on the market? What are the main advantages of iuvo?
Iuvo has proven that hard work pays off and stability and sustainability are the keys to success. During its operation, iuvo has achieved very high results and reliability not only among loan originators but also among investors. This has been achieved through high yield, security, transparency for investors, and flexibility, professionality and fairness for loan originators. Individual approach is the main advantage of iuvo.
How would you compare your participation in Iuvo with your experience with traditional investment tools?
Iuvo is suitable for anyone. It is a combination of freedom of choice and security, speed and convenience, transparency and simplicity that none of the traditional investment tools can offer.
How would you describe the experience you've had with the platform in 3 words?
Participation equals value.
What would you advise beginners who are currently considering investing in P2P loans?
Responsible and prudent investment is one of the most important preconditions for achieving high profitability. Expert advice, loan originators and borrowers research and portfolio diversification, considering its risk and yield, will allow you to invest your money with best practices.
What do you think we need to improve in our work?
Iuvo today is one of the leading P2P platforms in Europe combining both great technology and customer support. In ever-evolving FinTech markets, there is always need for improvement. And one thing that can be always improved is statistics. More data means more transparency.
How do you picture a typical iuvo investor?
Cautious, but searching for double-digit returns with clear goal orientation. They enjoy low fees and take less risk by diversifying their portfolio.
Can you forecast the future of P2P and the fintech industry?
Today, technology is revolutionizing global finance such that people can access credit outside the strict bounds of the financial industry. P2P lending industry is one of these mediums. The global P2P platforms industry is massive, and the regulation of P2P lending has evolved significantly in recent years, with mostly beneficial effects on the diversification of funding for individuals and corporations. We believe that the P2P industry will continue its growth and will become even more transparent and safe due to enhanced regulations worldwide.
Log in your profile and add NordCard loans to your portfolio.